This is part of our ongoing series with our Jubilee Media Partner, WindCheck Magazine and originally appeared in the April 2021 issue.
By Whitney and Ted McCarthy
The HMCo. assigned sequential hull numbers to most boats that it built, and the first 12 1/2 hull number was 744. Numbers referenced in this article refer to sail numbers unless noted as hull numbers.
On any Saturday in summer at the Shelter Island Yacht Club (SIYC) in Shelter Island, New York, you can see over twenty Herreshoff 12s set off for a day of racing. Sailors begin gathering around 12:30pm, catching up and discussing the day's conditions before heading into the harbor where more than 50 H12s are moored. After rigging up, the boats sail past SIYC members having lunch on the deck out to the racecourse for a 2pm start. Races may be conventional buoy courses sailed across the ferry channel in Pipes Cove, or what is locally known as a Channel Race with longer legs using government marks for a test of wind, tide and local shoreline knowledge. Regardless of the course, the final race heads back to SIYC for a finish off the club pier and racers gather at the club to toast and recap the day's sailing.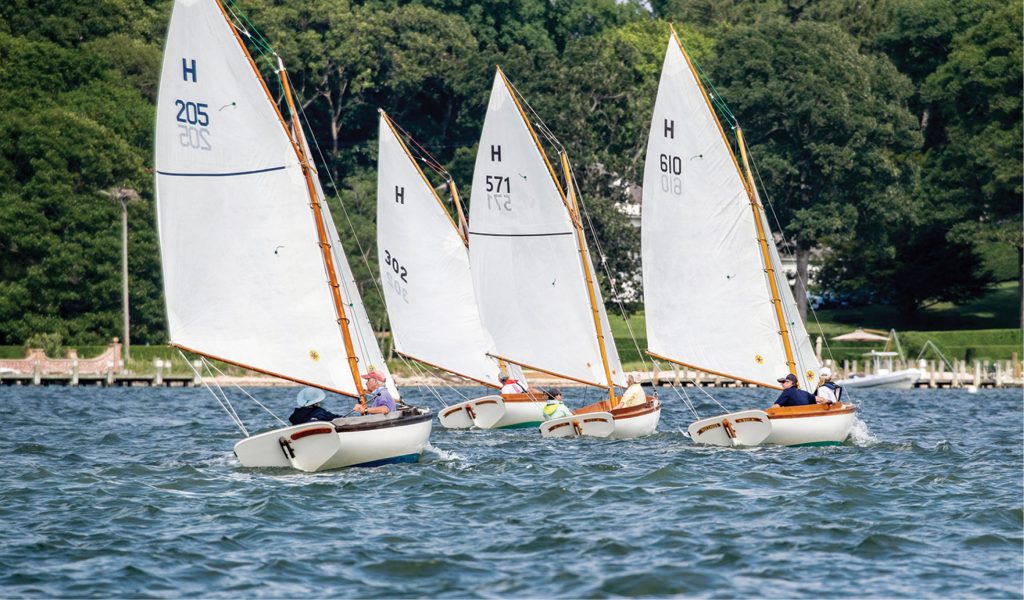 These are just a few of more than 50 H12s sailing in the waters of Shelter Island, New York. © Will Ricketson
The Fiske family were the first owners of an H12 on Shelter Island. Peggy was one of the first 20 boats built at the Herreshoff Manufacturing Company in Bristol, Rhode Island, and sold for $420 in 1914. After being sailed by the family for many years on Cape Cod and being renamed Little Kittie, the boat was sold a few times but was brought back into the family and to Shelter Island by Andrew Fiske in 1952. Andrew was the 12th Lord of Sylvestor Manor, which was originally a provisioning plantation established in 1651 for the Barbadian sugar trade and is now operated as an Educational Farm. He owned several wooden boats, including Little Kittie (hull 746, sail #14) which is named for his sister. Andrew Fiske is remembered by current SIYC fleet members for racing in a jacket and tie with his wife Alice who wore a bonnet and gloves. Little Kittie is now owned and maintained by the Sylvestor Manor Educational Farm and can be seen out on Shelter Island Sound being sailed by farm employees or volunteers.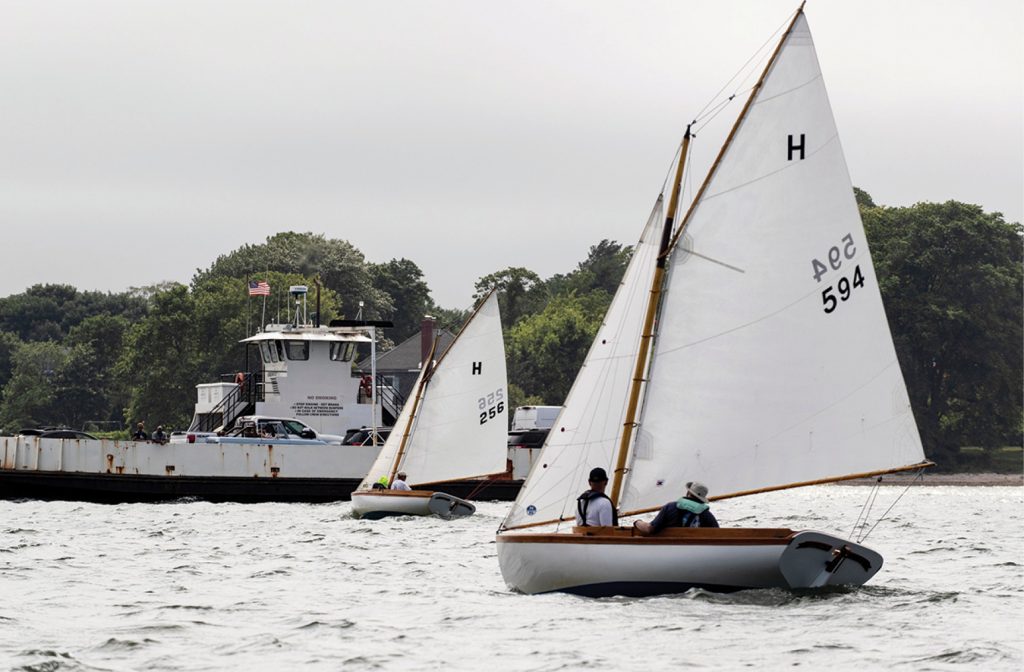 The North Ferry crosses a pair of port-tackers. © Will Ricketson
The fleet began its racing history when Sam Hird sailed his boat Poppy (#88) from Old Lyme, Connecticut across the Long Island Sound to Shelter Island in June of 1974. Hird became the first H12 Fleet Captain and within a few years there were ten wood and fiberglass boats racing at SIYC. Early racers included Hird, Walter Brigham, Steve Corkery, Andrew Fiske, Dan Reich (former Fleet Captain), and Wallace Tiernan. Toots Clark sailed Little Kittie when Andrew Fiske retired from racing. Clark recruited Bruce Brewer, the current SIYC Commodore, as his crew and thus began the Brewer family interest in the H12. Bruce has been Fleet Captain and with his wife Susan sails Spray (#816) every week and are former club champions. Chuck and Carol Tiernan began racing together in 1981 and continue to sail together in their boat Kona (#205), originally owned by Wallace Tiernan and one of the first ten boats in the early days of the fleet.
Toots' son Dennis Clark was recently Fleet Captain and races with his wife Ellen. Their first boat, Thistle (#101), was wood and they now race Lulu Belle (#256) in which they have been fleet champions. The Clark family tradition of competitive racing has continued with Dennis & Ellen's daughter Amanda, who first sailed in Thistle and went on to become a two-time U.S. Olympian as skipper in the Women's 470 Class. This past summer, Amanda frequently led the Race Committee for the club's Saturday races and continued the family tradition by sailing with her young daughter, Margaret, in the H12 Ladies' Races.
Shelter Island has a rich history of wooden boats – one reason there were so many competitive wooden H12s was the skill of Walter Brigham, island builder and craftsman. Brigham was a competitive sailor whose intimate knowledge of local waters made him a legend when he raced. Diana Lawrence, current owner of Blackjack (#272), recalled that Brigham carved a repair for her boat from an oak stump found at the town dump. Richard Smith's wood boat arrived on the island in need of much repair work. Brigham inspected the boat, poking the hull with his penknife, and then agreed to take Smith on as his assistant. The two worked on the boat for two years before launching the boat, named Kindling, and there have been no problems since.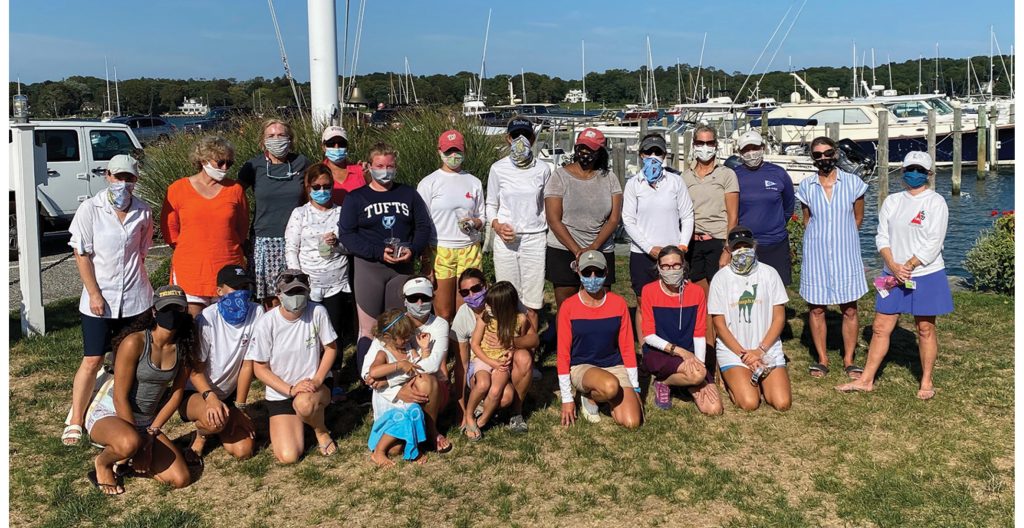 There's always a strong turnout for the SIYC Ladies Race. Photo courtesy of Shelter Island Yacht Club
The SIYC fleet also has a fiberglass boat with historical significance. In 1973, Bill Harding designed a fiberglass reproduction of the H12 called the Doughdish. The design of the molds used three original wood hulls for guidance. Harding's goal was to create a boat with similar sailing performance to the original wood boats so they could race together competitively. Harry and Peg Diorio own and race #71, Harding's own boat, one of the first fiberglass boats made by builder Edey & Duff.
While some of the boats in the SIYC fleet have historical significance, one has a movie credit to its name. Mary Walker purchased her boat, Queen Mary (#164), from longtime racer Wally Carrucci. Though not recognizable with its current blue hull, the boat was featured in the movie Jaws in its original red hull.
During the summer of 2020, H12 sailing at SIYC was a particular respite from the pandemic – the club saw more participation than ever in events offered for the H12 fleet. Saturday races ran from June through the Halloween Howl on October 17. Participation peaked on Saturday August 22 with 28 H12s on the line. The club also ran Ladies Races where mother-daughter teams and friends enjoyed monthly races. Dona Bergin, coordinator of the events, reports that 10-15 boats participated in each of the Ladies events. Dona has been sailing almost every day during the past year and even enjoyed a day of sailing this winter in the snow.
The SIYC H12 fleet is represented by all ages and is welcoming to all sailors interested in sailing the lovely 12 ½-footer (LWL) designed by Nathanael G. Herreshoff. This past summer sailors ranged in age from 5 to 85. The oldest sailor, George Bradley, 85, purchased his boat Delight (#446) in 2015 and races all summer. The youngest sailors Anders, age 11, and his sister Wells, age 5, race with their father Jake Siewert in Simba (#200). When they fly the spinnaker, Anders takes the tiller while Jake manages the sails.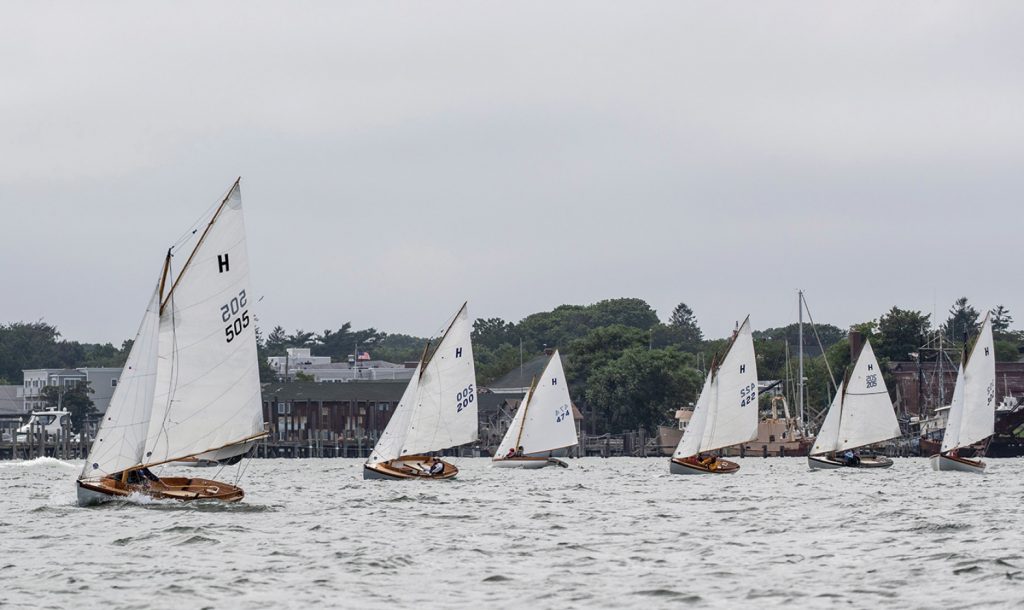 Shelter Island Yacht Club's H12 fleet includes both wooden and fiberglass boats. © Will Ricketson
More than 100 years after Herreshoff designed the H12 as a boat for children to learn to sail, the Shelter Island Yacht Club fleet continues to demonstrate that the boat remains a great design for those who want to enjoy the water.