This is part of our ongoing series with our Jubilee Media Partner, WindCheck Magazine and originally appeared in the May 2021 Issue.
By Holly Ambler
In summertime, as you approach the town of North Haven, Maine, riding the ferry from Rockland, a fleet of boats dot the water off the port side. Look closely, and you will see many Herreshoff 12 1/2s (referred to on North Haven simply as "Herreshoffs" or "Foxeyes") moored among the outboards, lobster boats, sailing dinghies, and assorted watercraft. Scan up and down the shore of North Haven and Vinalhaven islands which surround the harbor and you will notice more Herreshoffs resting in coves or sailing in the afternoon breeze.
The number of these graceful and sturdy little boats has grown tremendously since records document a fleet of sixteen being towed into North Haven during the summer of 1938 (Herreshoff Registry). While the North Haven Casino (as the yacht club is called) hosts races, many of the Herreshoffs are kept by families who prefer to take afternoon sails or picnics with family and friends, their beamy interior easily holding several adults and children. While some of the old wooden Herreshoffs remain, fiberglass hulls have become more common since the early 2000s. Regardless of vintage, the Herreshoff's popularity can be attributed to their beautiful, yet seaworthy, design.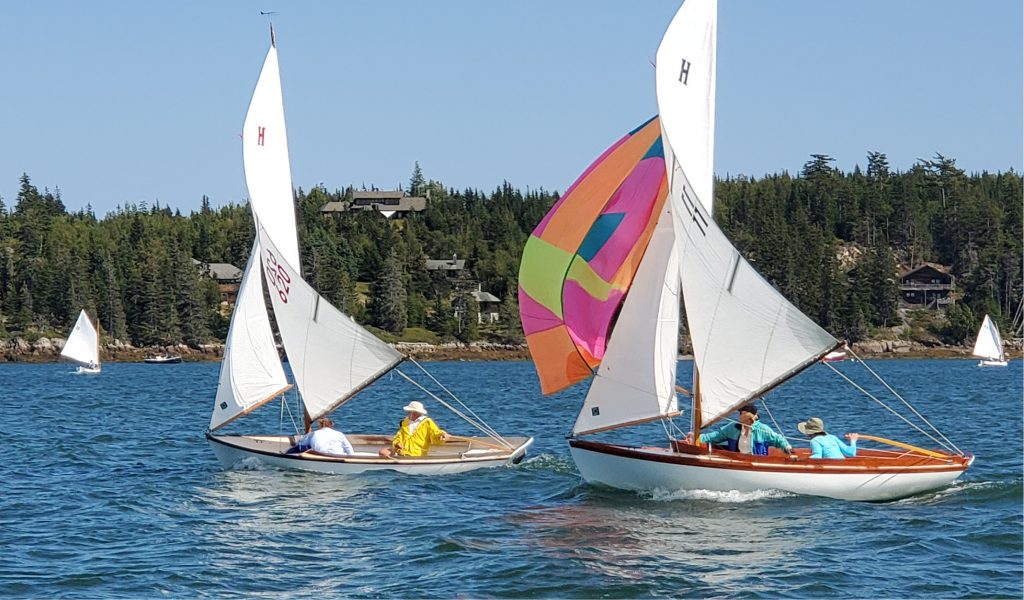 The North Haven Casino has run "Foxeye" races for many years. In this photo, #11, skippered by Missy Janes with crew Jenny DuPont, chases #620, sailed by Steve (skipper) and Elvire Wolfram. © Pierre DuPont
North Haven is an island in Penobscot Bay roughly twelve miles, an hour's ferry ride, from the city of Rockland in mid-coast Maine. In the 19th century North Haven was a bustling island community supported by farming, fishing, and coastal trade. At the end of the 19th century, a group of wealthy Bostonians, who had visited North Haven while sailing the coast, determined that it would be a good place to plant roots for the summer. Over a period of years, they bought property and encouraged friends to join them. Stories of the early years of the summer colony are full of tales of young people engaged in sailing and picnicking along the rocky beaches, muddy coves and jagged islands that make up the beautiful, rugged landscape. It is this remote landscape that creates the independent character of the North Haven Herreshoff fleet.
Sixteen Herreshoffs were towed to North Haven during the summer of 1938. They joined two other sailboat classes that were already popular: the North Haven Dinghy, a 12-foot, low-sided catboat; and the "knockabout" (also known as the "Dark Harbor 17"), which was a sloop typically raced with a crew of three. Eleanor Motley Richardson captures the moment, as well as the motivation, for adding a new class of boats in her book North Haven Summers: An Oral History, Red Barn Publishing, Rockland Maine 1992.
'Pa and Dr. Pettit got the Herreshoffs here," says Ellen Minot Little (a summer resident). "They felt there needed to be a boat you could go sailing in. The dinghies were useless and the knockabouts were hard to sail by yourself. Our Herreshoff was named Bimbo. We sailed and raced almost every day.' (Richardson page 143)
Clearly the arrival of these new boats created great excitement among the new, often young, owners. Over the years, these boats practically became family. John Cobb (Jack) recalls taking a trip to the Herreshoff boatyard in Bristol, Rhode Island with his two brothers as well as members of the Minot family to see the new boats before they were brought to North Haven. His maternal grandmother, Elsie Q Nichols, had purchased one of the boats for Jack and his two brothers, Charlie and Henry (Harry). The boat, (sail # 15) was aptly named the Elsie Q (hull #1446s) in her honor.
Cobb recalls that while all three brothers sailed the Elsie Q throughout their lives, his brothers were the racers. According to his daughter, Priscilla, many race pennants adorn the Cobb summer home, mostly won by her uncles. Jack Cobb preferred to use the boat to explore the islands. Current generations continue to sail the Elsie Q, which was recently refurbished, a project spearheaded by Charlie Cobb's son-in-law David Halberstadt (a racer in the Cataumet H-12 fleet). (e-mail communication, February 2021).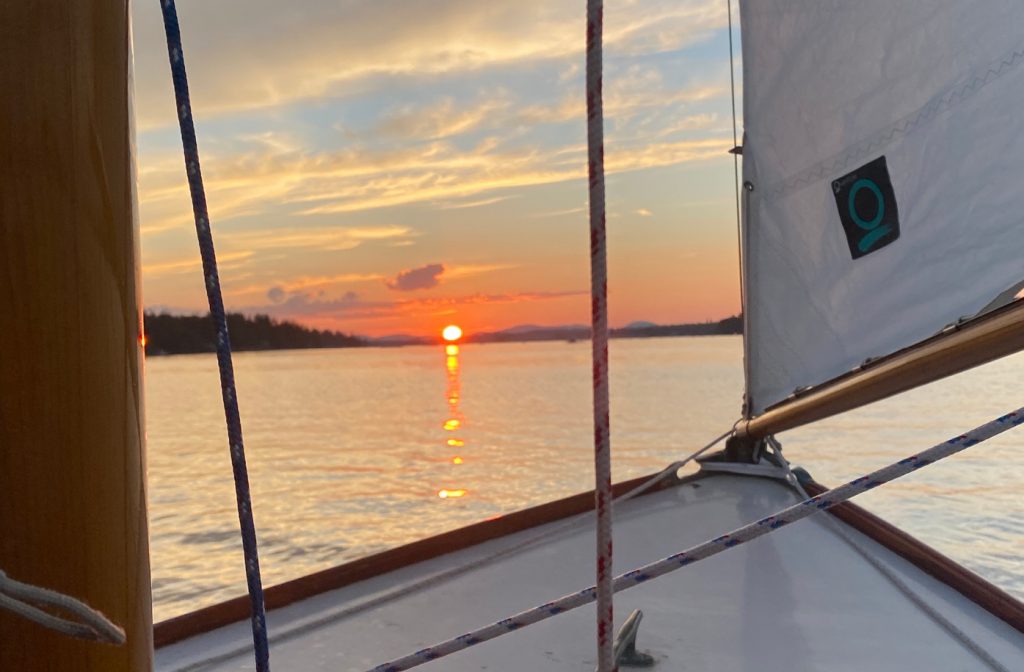 A Foxeye sunset in Fox Island Thoroughfare. © Missy Janes
The Elsie Q is one of among roughly five original Herreshoffs active in the North Haven fleet. Another is Snow Baby (hull #1442s), currently owned by Leelie Dow. Richardson's history captures the reaction of Leelie's grandmother, Nancy Snow Carter, when the Herreshoffs arrived:
'The (16) Herreshoffs were towed into North Haven under the aegis of Henry Minot. All the young new boat owners were given their boats and equipment on the Casino. I chose number 9, as it was always my lucky number. It was a great moment.' (Richardson page 142)
Wells Dow, Nancy's son-in-law, recalls being told that Snow Baby was Nancy's 16th birthday present. Nancy and other family members sailed and raced the boat throughout her life. In the 1990s and early 2000s, Wells, and Leelie raced regularly, winning many races together. Wells reports that after some needed repairs, Snow Baby will be back in the water this summer. (e-mail communication, February 2021).
Over the years, many boats have been added to the original sixteen. A fleet of Herreshoffs is moored in Pulpit Harbor, on the other side of North Haven island. Charlotte Betancourt recalls that her brother, Morris Cheston, used to race Chickadee (hull # 2045) regularly in the 1940s and '50s. Cheston's cousins continue to sail Chickadee around scenic Pulpit Harbor and in Penobscot Bay. (e-mail communication, February 2021).
Today, the fleet, particularly the racing fleet, is mostly fiberglass. The racing fleet typically has ten boats on the starting line during the busier month of August. Class rules are relaxed and allow boats built both by the Cape Cod Ship Building Co. and Doughdish Inc. Over the years, racing in North Haven has been a social affair, which is not to say that competition is not fierce. Lincoln Davis sailed competitively in Marblehead, racing a variety of boats. His daughter, Emmy Lewis, tells of the family arriving in North Haven in 1953, towing Curlew, a Herreshoff her father bought years before for her and her sisters to race in Marblehead. Not long after arriving on North Haven, he decided a North Haven Dinghy would be more fun, only switching to a Herreshoff at the age of 80 when, Lewis reports, he could no longer hike out.
Regardless of fleet, and despite stiff competition, Davis won most of the races he entered. He also took teenage sailors as crew, many (now adults) remembering lessons learned. He and his grandson, Andrew Saltonstall, led the Herreshoff fleet for much of the 1980s. After he died, in 1987, Emmy and her sister found a beautiful silver cocktail shaker in the shape of a lighthouse among their father's past sailing trophies. They donated it to the North Haven Casino in his honor. This trophy, the "North Haven Foxeyes Lincoln Davis Memorial" goes to the winner of the August Herreshoff series. (e-mail communication, February 2021).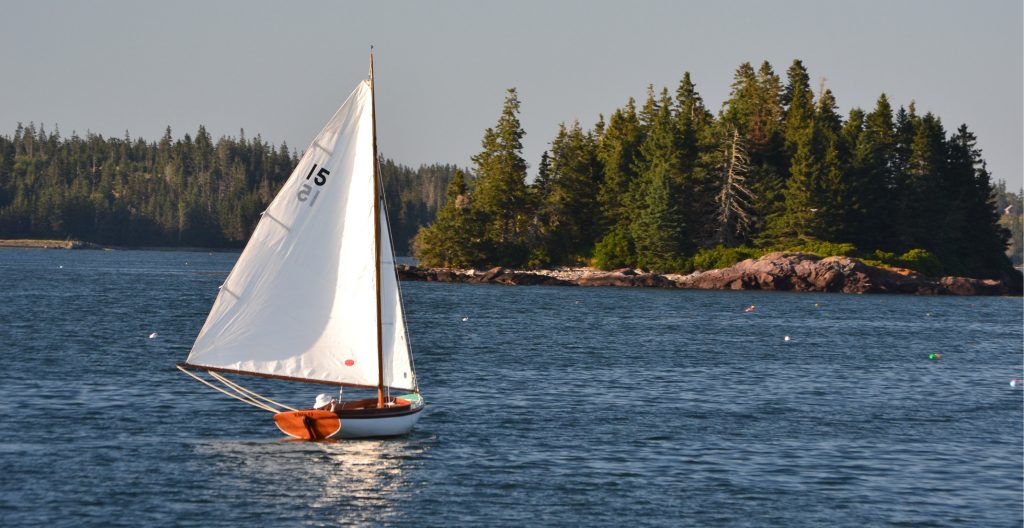 Mark Speed took this photo of his father-in-law Harry Cobb enjoying an afternoon in his Herreshoff Elsie Q. In his ninth decade when this photo was taken in August 2013, Harry has since crossed the bar. Mark recalls, "Harry and the family always referred to this type of sail as a 'This is the life sail,' and for obvious reasons." © Mark Speed
Lewis has carried on her father's tradition both in North Haven Dinghies and more recently in Herreshoffs, although in a new fiberglass one. Between 2007-2019, Lewis won the competitive August series trophy, (her father's silver lighthouse) several times. Her grandson, Brooks Saltonstall, frequently crewed for her.
In addition to regular "series" races on Saturdays and Mondays throughout July and August, there are a number of "special races." One particular favorite, "The Hurricane Sound Race," is an all-afternoon event where the boats sail roughly twelve miles through a maze of islands to a buoy off Hurricane Island (of Outward Bound fame) and back. Frustrations can arise when skippers find themselves in a back eddy, or a dead spot behind an island. Similarly, adrenaline can run high on a windy day, particularly in the chop against an outgoing tide. However, regardless of wind or weather, the scenery is always spectacular and the adventure of the long journey makes for a good story.
It is most likely that the Herreshoff's versatility has led to its popularity in North Haven. It is a boat that adapts itself to adventures, gunkholing, picnicking, socializing, sightseeing, and racing. It can ghost along in a calm, or handle the chop out in the bay (albeit with a wet crew). These sturdy little boats have carried generations of families along North Haven's varied coastline, and the tradition continues to this day. ■
Sources:
Herreshoff Catalogue Raisonné: herreshoff.info/Menu/index.htm
Herreshoff Registry: herreshoffregistry.org
North Haven Casino: northhavencasino.org
Richardson, Eleanor M., North Haven Summers: An Oral History, Red Barn Publishers, Rockland Maine 1992.
Holly Ambler grew up sailing and racing during summers in North Haven, Maine. Her mother, Eleanor L. Campbell, bought a wooden Herreshoff, Windrush (hull #1436s), in the mid 1980s, which was one of the boats towed to the island in 1938. Holly and her mother raced Windrush together for many years. Holly currently races with her husband or daughters, and currently serves as the Herreshoff fleet captain in North Haven.